Not Afraid!'s latest short film, and first micro documentary, "Pride of the Jaguar"  explores a patient car enthusiasts 22 year journey restoring a 1957 Jaguar Mark 1.
About the production
While visiting with my wife's family over the holidays my father-in-law, Jim Jones asked if I would bring out my camera to take some photos and video of his recently completed 1957 Jaguar Mark 1.  I was happy to oblige, but also took the opportunity to try something I've never done before.  Make a documentary.  Jim had been working on that car for as long as I've known him.  He's an interesting, articulate guy, and I knew from the serendipitous stories that I'd heard about the car and his scavenging for parts that this would be an interesting story to tell.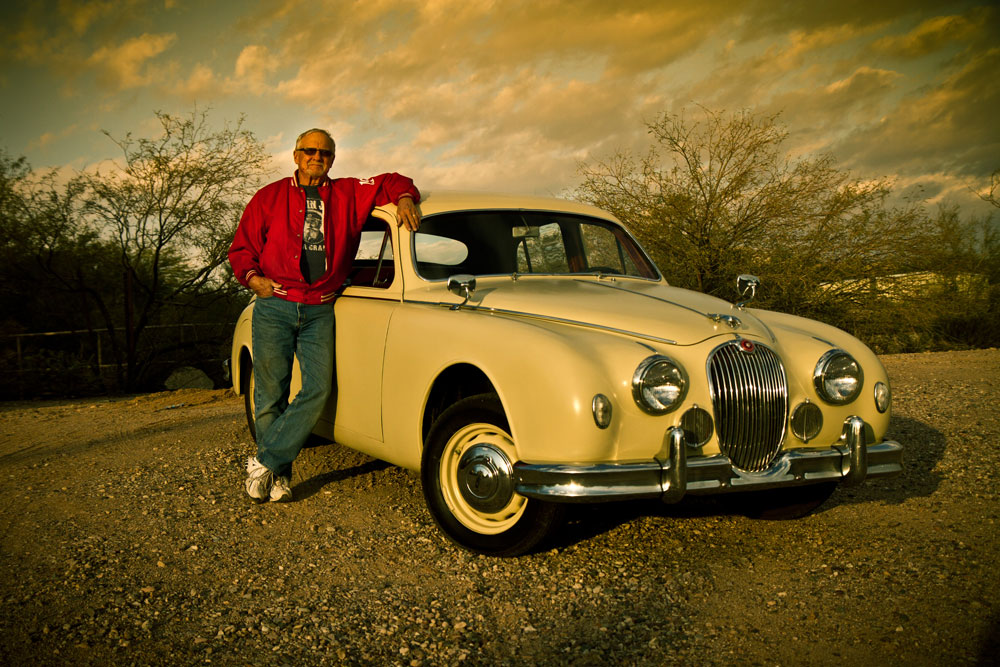 Up until now, with the exception of some corporate marketing videos commissioned in my youth, I've made only narrative films and commercials with set scripts, storyboards, and lots of planning.  While Inheritance comes close by utilizing real photos taken by my Grandfather to document the atrocities of the Buchenwald concentration camp, it's a narrative film with actors playing the parts.  I had never made a true documentary before.  It was uncharted territory and a chance to test my skills as a shooter, editor, and director.  Not only that, I had no crew, no lights, and no tripod.  I had packed for travel and was armed only with my Canon 7D, a GoPro Hero 2, a monopod, and thankfully my Tascam DR100 with an old hard-wired lavalier I always leave in the bag.
I had to do the best I could with what I had and very little preparation.  I knew what I wanted the film to feel like.  I knew what I wanted it to look like, and with that as my guide I followed my instincts.  I knew I had to interview Jim in his garage, but with only natural light, I had no idea how I was to light him.  When we got to Arizona and looked at the space, I decided to open the garage doors to let in as much natural light as possible, and positioned Jim on a stool near his workbench.  Behind the workbench was a window which provided a nice highlight.  I thanked my good fortune.  I used the Canon 7D with a Canon 17-55mm F2.8 IS lens on my monopod for the "A" camera, and the GoPro Hero 2 suction cupped to a tool cart as my "B" camera for cut-a-ways.  I utilized GoPro's new Protune firmware to lock it into 24 fps, and give it a flat curve to better match the 7D.  I used the hard-wired lav and DR100 to capture his audio, and we spent about 45 minutes chatting about his love of cars, and his trials and tribulations restoring the Jaguar.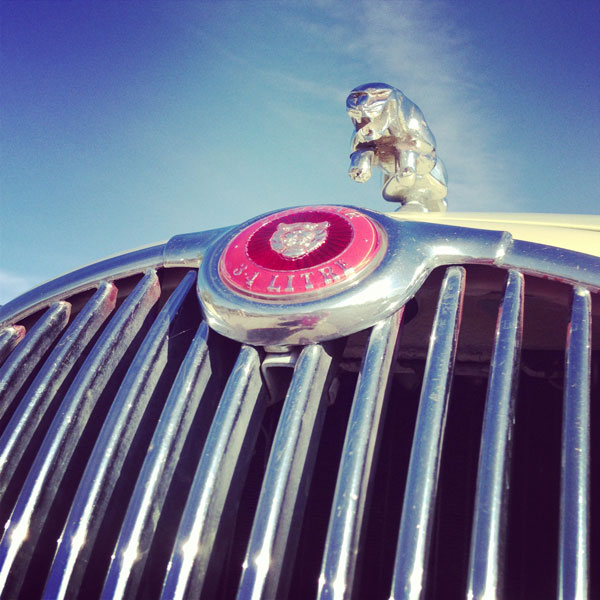 After the interview I shot B-Roll in the garage with the plastic fantastic while we waited for the sun to get a bit lower in the sky for the driving shots.  For that, the GoPro was obviously key, but I knew I needed some other shots as well.  My wife graciously volunteered to be my driver while we shadowed Jim and his Jag. I was quite literally hanging out the windows and tailgate of my car, pushing the image stabilization on the 17-55mm to the limit.  While the footage doesn't compare to a big budget car-mounted crane shot,  I'm pretty happy with the results.
Editing the piece is where I was really challenged.  With no script and no real plan, but a bunch of great anecdotes and a pile of footage, I had to organize, shape, and mold the piece into something interesting, and hopefully worth watching.  It engaged a different part of my film-making brain and I liked it.
I thoroughly enjoyed the true cinema verite process of it all.  Shooting with only what you have  in natural light and finding the story within it. It was freeing.  You're still telling a story just like narrative pieces, only here instead of crafting something to meet your thematic needs, it's more like a great photograph, where you're trying to reveal the essence and emotion of an event or a moment to the audience.
I truly hope you enjoy it, and look forward to your responses.