Wednesday night I had the pleasure of attending the International 3D Society Awards, where I was called to the stage for the second year in a row to accept a Lumiere for Best 3D in a Special Venue Attraction.
I want to congratulate our entire team at Universal Creative, Electrosonic, and of course our partners Jeff White, Khatsho Orfali, Jon Alexander, and Lori Arnold at ILM, whose amazing work on the attraction make it what it is.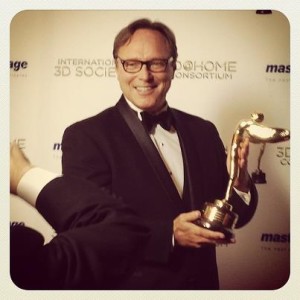 Attraction Producer Chick Russell and I accepted the award on Universal Studios behalf, giving us the opportunity to rub elbows with 3D's best and brightest including this years Harold LLoyd Award winner Ang Lee.
As a filmmaker still trying to make my mark, it was inspiring to see and meet with so many innovative storytellers.  As a veteran of special venue projects, responsible for the design and implementation of some of the worlds largest, most advanced projection systems in the world, I am gratified for the recognition of my work.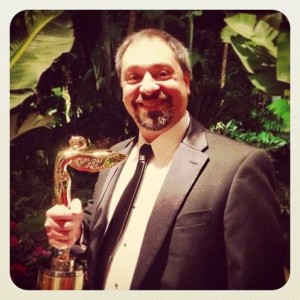 Thanks to Universal Studios for giving me the opportunity to make these  ground-breaking attractions.  It's a career I never thought I'd have, but one that challenges me every day.
Lastly, you may have noticed that I said, "second year in a row" in the opening paragraph.  Last year Thierry Coup and I accepted this same award for King Kong: 360-3D, and while I tweeted it, here, here and here. I apparently neglected to blog about it as I was elbows deep in Transformers integration and completion of the Specimen.   So apologies and an additional shout out to our team for last years award!