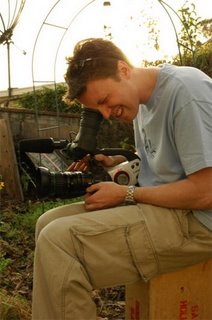 Speaking of collaboration, I just wanted to give a shout out to one of my frequent collaborators, Doug Delaney. He shot both
Inheritance
, and
Glazed
, as well as my new project which for now will remain nameless. Doug still manages to find the time to collaborate with me, even while moving up the Hollywood ladder working as a DI Colorist on the ICE HARVEST and THE MATRIX: REVOLUTIONS and additional color timing for THE ITALIAN JOB, THE MATRIX: RELOADED, JAY AND SILENT BOB STRIKE BACK, SPY KIDS, VANILLA SKY, ANY GIVEN SUNDAY, AMERICAN BEAUTY, KUNDUN and ARMAGEDDON, among many others.
He's recently moved to Post Logic Studios (see the article
here.
)
Doug is also featured in the Dear DI Colorist feature in this Month's Post Magazine. (Sorry, no link yet…)
Congratulations Doug. Beers are on me.
Paul